What is Japanese Wine ?
The main characteristic of Japanese wine is its diversity. Wines with a diversity of flavors are being produced from a wide range of grape varieties, including indigenous Japan varieties, American Vitis labrusca crossbreeds, and, more recently, specialist wine varieties such as Chardonnay and Merlot. As with traditional Japanese cuisine, the characteristic of the taste of Japanese wine is "delicacy." Indeed, Japanese food and Japanese wine demonstrate an amazing affinity in terms of being delicate. When eating sushi, tempura or sukiyaki, Japanese wine is the ideal wine pairing.
History
Japanese wine production still only has a brief history, starting about 140 years ago with the establishment of the first domestic Japanese wine company in the 1870s by two young men from Yamanashi prefecture, where grapes were commonly cultivated as food, following their return from studying French wine production in France.
High quality Japanese wines have received good ratings at recent international wine competitions.
Production locations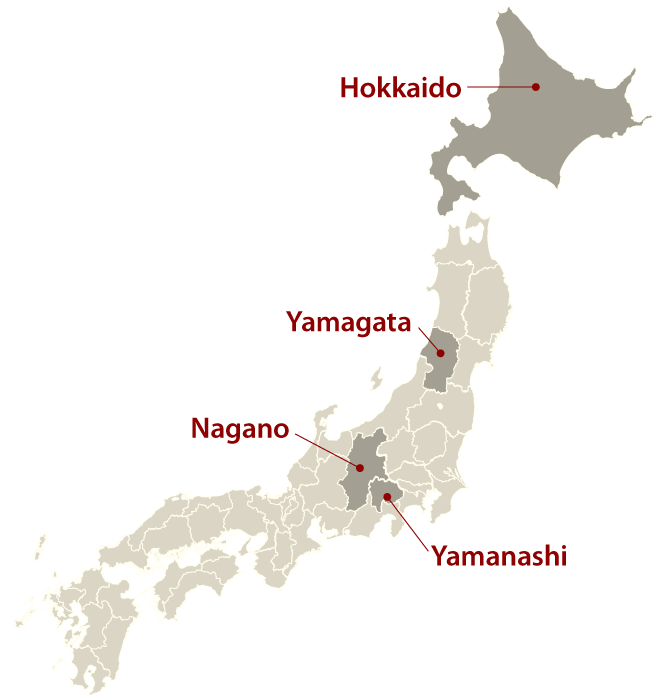 On the islands of Japan, which extend a long distance north and south, grape cultivation is being carried out in a variety of locations, including valleys, mountains, hills and coastal areas.
The climate varies greatly in each area, with the environment generally having more rainfall and humidity than the major production areas in Europe. Due to the wide range of annual temperatures, from the northern area of Hokkaido, where more than one meter of snow falls in winter, to Kyushu, where the temperature regularly exceeds 30 degrees Celsius in summer, initiatives are being carried out to find cultivation methods that suit each area and high quality grapes are being grown in each location.
Wine is produced all over Japan, with the major production areas being Yamanashi, Hokkaido, Nagano, and Yamagata.
Varieties
The major varieties include the indigenous Japanese white grape "Koshu," and the red "Muscat Bailey A," which is an indigenous crossbreed of Vitis labrusca and Vitis vinifera. The first proper introduction of Vitis vinifera occurred in the second half of the 1970s with Merlot and Chardonnay, which achieve success in the most authoritative international wine competitions almost every year. Another red variety being cultivated is Cabernet, while an increasing number of producers are attempting to use Syrah and Pinot Noir in smaller cultivation areas. Other noticeable white varieties are Kerner and Sauvignon Blanc.
Vitis coignetiae crossbreeds developed for the humid environment are being cultivated in coastal areas and cooler regions. Wines for beginners are also being made using Vitis labrusca varieties such as Niagara, Concord and Delaware, which were introduced for food use at the end of the 19th Century.
The characteristic of wine from Koshu is the refreshing aroma of citrus fruits, such as grapefruit and lemon, along with a light acidity and relatively low alcohol content.
Koshu was taken to China from Central Asia along the Silk Road in the 6th to 7th Century, and it was handed on to Japan from China at the same time as Buddhism during the Nara period. It was registered with the OIV in 2014 as a grape for wine use. Koshu is suited to the topography of Japan and is largely cultivated as a food, but today it is the most widely used grape variety in Japanese wine.
An analysis of the DNA of Koshu in a recent study clarified that, although it is mostly Vitis vinifera, Koshu is actually a hybrid that gets a quarter of its DNA from a wild Chinese variety.
The characteristic of wine from Muscat Berry A is an intensely fruity flavor with aromas of cherries of berries.
Market
The history of wine consumption started with the approach of Westernization in Japan, but it did not achieve popularity, as wine did not suit the rice-centric diet of Japan at that time. For that reason, sweet wine with sugar added to suit the preferences of Japanese people was a common revitalizing beverage.
The shift toward the full-scale consumption of wine started around the time of the Tokyo Olympics in 1964 as food become more Westernized.
Later, there were spurts of rapid expansion for wine consumption in Japan during "wine booms," followed by temporary stagnation and incremental growth.
In 2014, the amount of wine consumed was approximately 370,000 kiloliters (including imported wine), which is an increase of 54% across a 10-year period.
However, from a global perspective, the annual consumption amount per adult is still low, at approximately 3.1 liters, or 4.1 bottles, per adult.
[References]
Wineries
There are more than 200 wineries in Japan. Approximately 96% of them are small-to-medium size companies with capital below 300 million yen and fewer than 300 employees.
Wineries with English websites are listed below.
Prefecture
Winery Name
URL
Niigata
Co., Ltd. European viticulture Institute
http://www.docci.com/
Fukushima
HONDA WINERY
http://www.hondawinery.co.jp/index-en/
Tochigi
COCO FARM & WINERY
https://www.cocowine.com/contents/english
Yamanashi
ALPS WINE Co., Ltd.
http://www.alpswine.co.jp/wp-content/uploads/2014/07/English_flyer.pdf
KATSUNUMA WINERY CO,LTD.
http://www.katsunuma-winery.com/english/index.html
Kurambon Wine Co.,Ltd.
http://www.kurambon.com/english/index.html
Shirayuri Winery Co.,Ltd.
http://www2.shirayuriwine.com/
Chuo Budoshu Co., Ltd.
http://www.grace-wine.com/f-english/english.html
MARUFUJI WINERY CO., LTD
http://www.rubaiyat.jp/en/
Lumiere Co., Ltd.
http://www.lumiere.jp/en/
Budoubatake Ltd.
https://budoubatake.net/budougari-en.html
Fujicco Co., Ltd. Winery Co., Ltd.
https://fujiclairwine.jp/
Osaka
Katashimo Wine Foods Co.,Ltd.
http://www.kashiwara-wine.com/index.html
Papilles Co., Ltd.
https://www.papilles.net/english/